In this post we will continue our exploration of Dobby's habitat. As you'll recall, in Part 2 we focused on the backyard. In this post we'll finish up some stuff in the back and then move to the front yard.
To get to the front yard, Dobby has to go through the pen where Stacy keeps the poultry at night, and where the two cats live full time. In the photo above, you can see how Dobby signals to Stacy that it's time to go to the front. Or sometimes just that it's time to let the chickens out. Or that he wants to go into the pen but not necessarily the front yard. He's very clear about his meaning, once you know what it is.
Finally Stacy gets the hint and opens the gate.
These are a couple of the ducks that spend the night in the pen. Stacy has names for all of them but I didn't pay attention so I have no idea who these guys are.
Inside the pen is the old 8′ across stock tank that Dobby refused to swim in. I think it was his pool #6 or something. The ducks seem to like it fine. We'll get to Dobby's current pool, but probably not until the next post.
Inside the poultry pen is yet another pen. This inner pen is just for doves. It's quite a nice design. I'm thinking a pen like this might look nice at my house.
While the ducks get to go out during the day, the two cats have to stay in the pen full time. I think their names are Grover and Cleveland. (Okay, they're really Grover and Kitty Hawk. Kitty Hawk is a cute name, but Cleveland goes better with Grover.)
Stacy says she doesn't like cats, but I think that's just a line. She seems to like both her cats pretty well, even though Grover won't let anyone pet him. They are both feral, HIV+ cats that Stacy adopted. They help handle a rodent problem that she had due to the abundant food her other creatures seem to supply. As big as the cats are, they don't seem to cause any problem for really large rodents.
After passing through another gate, we are finally in the no-capybaras-land that leads to the front gate. Dobby was a little nervous about me taking photos of him here. He knows he has to go all the way up to the gate to get his harness on before heading out front.
Finally we made it to the front yard. Can you see Dobby? He's just behind Stacy coming over a little bridge.
All harnessed up and ready for a front yard adventure. Stacy doesn't actually use a leash on him. The harness is a precaution in case he somehow gets out of the yard. It is also to keep him in practice wearing a harness for any future vet visits, but don't tell him that!
The front yard is where Dobby does his tricks.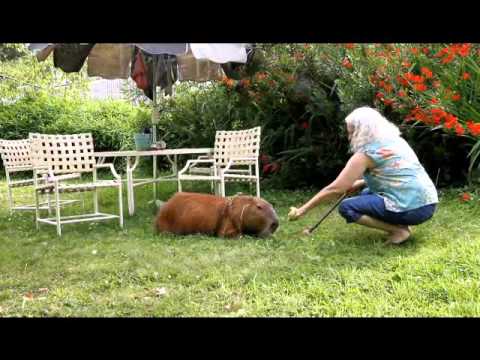 Dobby Does Tricks?
As Stacy has often told me, Dobby pretty much picks what tricks he wants to do. Apparently waving goodbye is his favorite. Caplin's favorite trick was always "turn a circle." A think Garibaldi's favorite trick was also waving.
Dobby is apparently not much of one for standing up. The photo above shows about how tall he will stand.
When Dobby was a baby he was allowed to go in and out of the house through the front door. Since he has grown up to be a rather destructive adult capybara, this is no longer allowed. However Dobby has never forgotten his earlier privileges and is constantly waiting for Stacy to relent and allow him free access.
Dobby can also hang out on the patio outside Stacy's office. He has to go up a flight of stairs to get there, but he doesn't mind. Capybaras are quite good at climbing stairs. They're not as good at coming down them, but they can do it.
Much of Stacy's house and property has been modified to accommodate a large rodent overlord.
Yes, the scale is for Dobby, but he doesn't know it.
It's not nearly as hard to get the two front feet on the scale as it is to get the two back ones up there, especially if you want them all on at the same time.
Dobby looks pretty cute in that photo but now he doesn't even have one foot on the scale. We weren't actually able to weigh him while I was there but I believe his most recent weight is just under 130 lbs.
That's it for this blog post. I still have one more Dobby post up my sleeve, so keep watching for it!