Melanie's Post:
This is an especially hard memorial post. Not only was Dobby a superior capybara, but he was also Caplin Rous' younger brother. And if that weren't enough, he died on July 9th, one day before Caplin Day, which would have been Caplin's 11th birthday. Dobby, whose birthday was Feb. 14, 2009, was 9.5 years old when he died.
One of the services provided by the ROUS Foundation for Capybara Veterinary Medicine (RF) is the performance of necropsies on capybaras. We do this because without knowing why capybaras die, we can't know how to keep them alive. Dobby lived to a respectable age, but of course we would have liked him to live longer. Forever, if possible.
Preliminary results of Dobby's necropsy show that he died from hepatitis. This is the same thing that killed Caplin Rous. Since they were full brothers, this is suspicious, but without more data it is hard to draw solid conclusions. Please consider making a donation.
I got a chance to meet baby Dobby even before Stacy took him home with her. I took Caplin to visit his parents and his new siblings. In the photo above, my daughter, Coral, is showing an as-yet-unnamed baby Dobby to Caplin.
Dobby was one of four little capys in his litter. He was the only friendly one. Stacy and I both experienced the unfriendliness of the others as they urinated on us. I told Abby to save Dobby for Stacy, and that's what happened.
Dobby soon became an integral, you might say central, member of the Winnick family. Who wouldn't fall in love with that cute little face?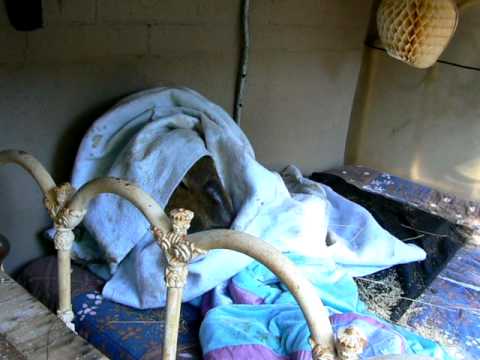 Here's how it's done
One of the things that most characterized Dobby's personality was his ability to pull the covers up over himself. Many capybaras like to sleep under the covers, including Caplin and Skipper, but not Garibaldi. I don't know of any other capy who could pull the blanket over by himself. Of course, there were casualties.
One of Dobby's most notorious talents was the destruction of his swimming pools. I'm not sure which one this was, but judging by the flimsy appearance of the support around the top, I'm guessing it didn't last long. Stacy spent a lot of time and effort trying to devise something Dobby-proof. I think it wasn't until pool #8 that she finally got it right.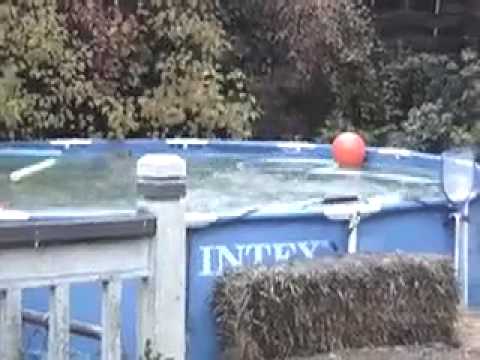 Best dive ever!
Dobby's dives into the pool are well documented on his YouTube channel, which you can find by clicking on the link above. Not all of his dives were executed with the grace demonstrated in the video above. Honestly, that is the very best capybara dive I have everseen.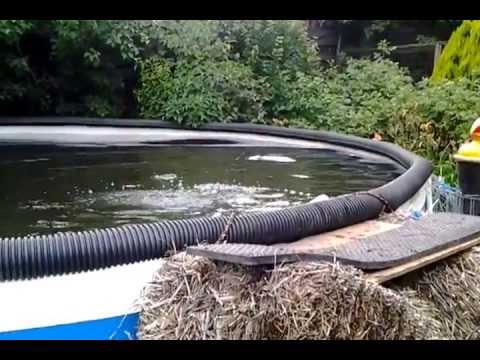 Another dive
As he got older, his diving skills seemed to diminish. I guess it's the same with humans; all the best athletes are young.
I'm going to have to close here or this post will be as long as the distance from the Earth to the Moon. I'll have a second, and possibly third, post on Dobby's life. It's not easy to memorialize someone with so much…everything.